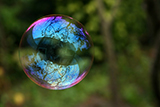 The spring season for property is now in full swing and it is creating solid gains and high auction clearance rates in capital cities across the country.
Some people have looked at the property gains in the September quarter and have started using the term 'housing bubble'. Please don't use this to avoid property. I believe that the market is healthy and it just means people are investing in it again.
The latest RP Data indices show Australia's capital cities' property values dropping 7.4 per cent from October 2010 to May 2012, only to resurge 8.7 per cent from June 2012 to September 2013.
So this means property is returning to where it was after dropping to a low base and suggests that the market is coming back. So it is a good time to buy property, but only if your financial circumstances are right to do so.
We are pretty excited about property right now and it is easy to see why. Interest rates are at a historical lows with variable rate mortgages as low as 4.7 per cent, and 3-year fixed rate mortgages for 4.9 per cent.
However, your own financial circumstances are always more important than market statistics. So if you have consistent income and a deposit or capital to draw upon, then you should do an affordability exercise from your own perspective.
Take a look at our Loan Repayment Calculator if you borrow $400,000 at 5 per cent interest over 30 years, it will cost you around $494 per week in mortgage repayments.
If you take away rent, depreciation and the tax deductions then you may find that your investment property is positively geared or has a minimal weekly outlay. Then consider the capital gains on the property. If it goes up in value at a conservative rate of 6 per cent per year, then it becomes a secure way to invest.
A property investment should be made with a long term view. In 2010, the Russell Investments conducted a study for the ASX and found that residential property over 2 years had returned 7.7 per cent per annum for those in the highest marginal tax bracket, and 9.2 per cent to the lowest tax bracket. They concluded that residential property was the best investment over 10 years.
With a resurgent property market and historically low interest rates, you can see why right now is a great time to leap into the property market.
It is important to know your individual circumstances and how you can make the most out of this significant opportunity. Now is the time to take action.