What our Members say about us: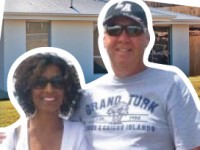 The prospect of transitioning to retirement in the not-too-distant future provided the catalyst for dentist Greg Duguid, 57, to re-evaluate his self managed super fund and re-focus on his investment strategies.
"I'd previously had a fair amount of my super tied up in international shares but I wasn't happy with how the market was going. I missed the property boom on the Gold Coast last time and so decided that the time was right to focus on real estate and purchase before the next boom comes," says Greg.
And so Greg and his wife Murtaza began looking around for investment opportunities.
At the same time, their daughter and son-in-law – both teachers in the remote North – began contemplating an investment strategy for their future. Greg suggested they get in contact with Brian Boyd (Real Estate Investor™ CEO), whom Greg had known for many years.
The couple did, and subsequently decided to purchase a house and land package through Real Estate Investor in Pacific Pines, in the Gold Coast Hinterland.
Seeing them go through the process and also identifying the excellent future growth capabilities of the proposed property, Greg and Murtaza decided to follow suit and purchased a similar block just up the road.
"It ticked all the right boxes for us," says Greg. "It's about five or six minutes from a major shopping centre and four minutes from the motorway where you can go North back to Brisbane or South to the beach. It's also situated on a hill with lovely views in an area boasting wide streets, large lots and excellent rental history."
The building process of the new home was also positive, with everything going smoothly.
"As with any building development there were a few issues, such as placement of the clothesline, incorrect cabinetry profiles and the like, but we simply called Brian and he set up a meeting with the builder
who remedied the situation."
Now the proud owner of a newly completed investment property, Greg is keen to begin the process again.
"The plan it to invest in five-ten properties in the next five-ten years. That of course depends on the market but as my focus is now on my super contributions I think it's achievable."
"Having used a large portion of my super as a deposit, we're only currently out of pocket about $100 a week. So as soon as I have enough equity and funds in the super account, we'll purchase again."
As to his property strategy, Greg will continue working with Real Estate Investor, as he appreciated Brian's expertise and know-how.
"From start to finish Brian helped us with the entire process, not just with the property, but showing us the tax advantages and providing advice on stepping away from an institutional super fund and taking ownership of the future with our own SMSF."
"The only thing I would do differently to make it easier next time would be to look at the house plans in more detail and ask to see a similar house that had already been completed so I can see the colours and finishes from the outset."
"Overall however we're really happy and look forward to building on our investment goals."