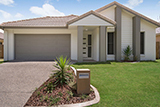 I'd like to talk about the benefits of house and land packages. Often when people are considering an investment property they look towards existing homes or apartments, but the benefits of house and land packages should not be overlooked. Some very attractive features include increased deductible tax benefits, offsets available as well as significant stamp duty savings. New homes in well-located areas also have the added benefit of being very attractive to tenants and attract higher calibre of tenant.
Here are five top reasons why house and land packages make great investments:
1. Stamp duty savings
The big saving for house and land packages is purchase stamp duty. On a typical house and land package of around $450,000, you will save around about $8,000 in stamp duty. This is because when you are building a new house you are only paying stamp duty on the value of the land component not the house and land components, as the home hasn't been built yet.
2. Choose your block and design
When you purchase a house and land package you can choose the most suitable block and customise the house design to make it highly attractive to tenants as well as suiting your investment budget and goals. In this way you can really think about the ideal tenant you would like and then customise a house and land package that would suit them.
3. Brand new homes attract better tenants
As a landlord you want to attract high quality long-term tenants to your property. New homes have the advantage of being incredibly attractive to tenants with modern conveniences and offer a place that tenants will love and want to stay in for many years. New homes also have the benefit of being able to charge premium rent so you will gain higher returns for your investment.
4. Depreciation and tax benefits
The benefits of depreciation are significant in a new home and should not be overlooked. In a new home tax deductions can be claimed for depreciable assets such as the construction cost of the building itself as well as its fixtures and fittings. A new investment home costing, say, $250,000 with $30,000 worth of fixtures and fittings will create approximate deductions totalling $16,000 per year together with benefits received from claiming for the payment of rates, interest and rental management.
5. No maintenance
Lastly, another great benefit of new homes is that they have little or very low maintenance. Often the building, fixings and fittings will be covered by a builder's guarantee, which can often last 5 years here in Queensland. This is pretty significant when you consider that one of the main costs of an investment property is the maintenance and upkeep. A new home will have lower costs and retain its value for longer. In addition reputable builders of new homes are using higher quality materials and better construction techniques than ever before meaning homes are well built and incredibly efficient to maintain.
So there are top five reasons why house and land package deserve a second look as an investment choice. Of course when considering any investment you must also look at the location, surrounding infrastructure, employment and growth of the region to ensure that it will make a good long term investment to achieve your investment goals.