Anna and Mick, Middlemount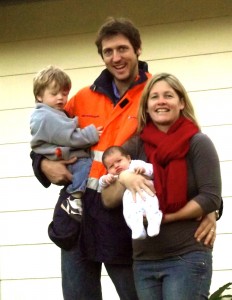 This week we meet another of our wonderful clients Anna and Mick, whose desire to one day own their own cattle property proved the impetus for the North-Queensland-based couple to really focus on their wealth creation strategy.
"We knew that our dream would not be an easy one," says Anna. "But my brother had invested in several properties and we realised it was a good way of making money in the future. We recognised that it wasn't going to be easy but thought that if we bought houses now, we could build equity to leverage off to buy the cattle property in future and set ourselves up for retirement."
So in 2009 the couple began putting their plan into action, beginning with a move to the mine at Middlemount, in central Queensland. "We knew we wanted to start a family and decided that the only way we could move forward on a single income was to work out a budget, put in several years at Middlemount and save," says Anna.
And save they did, so by the end of 2010 Anna and Mick had been able to put aside a substantial deposit for their first house which they purchased through Real Estate Investor. The property was an off-the-plan house and land package in a development just outside of Mackay.
"The whole process was really great. We could see exactly what we were in for as everything was laid out in front of us and very specific with even the costs broken down for each stage. And for beginners like us, who had no knowledge or idea on colours, sq metreage and the like, it was great to be able to talk to Brian (Boyd, Real Estate Investor CEO) and his team about all those things as they were just so patient with us."